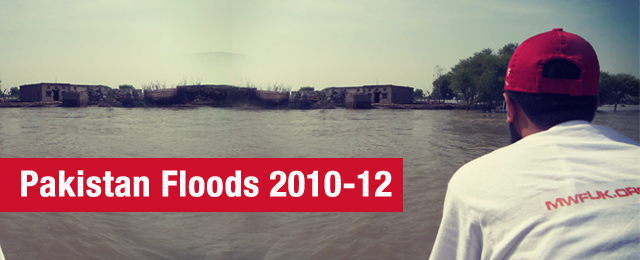 Devastating Floods 2010 in Pakistan and Lifeline Welfare Organization
Help Survivors of Deadly Floods in Pakistan
More than Twenty Million fleeing deadly floods in Pakistan need your help now!
Flood Devastation In Pakistan Overview 2010
The deadliest floods related disaster of 2010 is continuing to develop in Pakistan since July 29, 2010, where heavy monsoon rains have caused flooding that has left over 2,500 people dead, The death toll may reach in the thousands as flooding has spread throughout the country and uncountable are missing due to devastating floods and landslides, four million children are at high risk from deadly water-borne diseases.  According to Pakistan meteorological department, more monsoon rains and flooding are on the way which may continue till end of August.
Floods have caused horrific damage to 28% of the country (more than the size of Italy or UK). Homes, Buildings, Businesses, crops, most of the infrastructure and lives and livestock have been lost.
Infrastructure:
Uncountable number of villages and towns have been destroyed.  Over 20 Million people have been affected and have lost their homes, businesses and livelihood but destruction is still increasing with each passing day. Floods have damaged an estimated 2,500 miles of highway and 3,600 miles of railway. Cost estimations for highway damages are at approximately 180 million USD and railway damages are at 150 million USD. Any unique or particularly large infrastructure damages will increase these estimates.  Public building damages are estimated at 1.5 billion USD.
Infrastructure such as dams, power stations, roads, bridges, schools, agriculture wells, and drinking water hand pumps have been completely washed away or severely damaged and destroyed.
Food
Floods have submerged 19 million acres of Pakistan's most fertile crop land, have killed more than300,000 livestock and have washed away massive amounts of grains and food stocks, meaning a massive loss of food production for 2011, and potentially leading to long term food shortages. The agricultural damages are more than three billion US dollars, according to recent estimates, include over 700,000 acres of lost cotton crops, 220,000 acres of sugar cane and 200,000 acres of rice, in addition to the loss of over 550,000 tons of stocked wheat, 300,000 of rice etc.
Relief efforts
Massive relief efforts are underway with Pakistan Army leading the relief efforts along with National Disaster Management Authority of Pakistan, civil society, NGO's private organizations and international donors for help in responding to the disaster.  International community and Governments have responded positively and are providing humanitarian and financial aid to the people of Pakistan.
How Lifeline Welfare Organization is Conducting Relief Work in Pakistan
What is Lifeline Welfare Organization Currently Distributing to flood victims
How you can help
What are the Needs
Why Should I Donate to  Lifeline Welfare Organization
Rehabilitation work
Currently Lifeline Welfare Organization is executing relief efforts at five different locations in Punjab, Pakistan, along with Social Welfare Department of Punjab with the help of over 300 employees and volunteers.
What is Lifeline Welfare Organization Currently Distributing to flood victims
The shortage of food is acute.   Lifeline Welfare Organization has begun to deliver food packets which contain rice, lentils, flour, sugar, salt, tea, Milk, washing soap, toilet soap, biscuits, and purified water etc. To combat the threat of diarrheal diseases breaking out, LWO is distributing Oral Rehydration Solution sachets.
LWO is also sending medical teams along with essential medicines to combat alarming number of sick people and rising constantly in multiples.
Short Term Help:
By your donation in terms of cash or on line by credit card, click here through bank transfer click here, checks through regular mail made out in the name of Lifeline Welfare Organization and send to:
Suite # 208 Salaar Centre, 13 Babar Block, New Garden Town, Lahore, Pakistan.
Donate Zakat, Sadaqat, and other donations for the flood relief victims.
Donate in-kind items such as food grains, blankets, clothes, jackets, shoes, house hold stuff etc.
Arrange fundraisers to help spread awareness and collect funds for the relief effort.  Ask LWO team for help and to learn how and what you can do please contact on info@lifeline.pk or call (9242) 35891134-5 cell Phone: (92300) 8444809.
Forward .   Lifeline Welfare Organization's e-mails to your family, friends, relatives associates, others and e-mail lists etc.
Distribute .   Lifeline Welfare Organization printed material at your businesses and other public places.
Long Term:
Let us know if you are willing to work as volunteers in the rebuilding process.
Tell us your expertise and how much time you will be willing to give for the rebuilding effort.
Project planning such as Construction of homes, schools,hospitals, roads, infrastructure etc.
International leads for purchasing all of the stuff from different locations of the world at reasonable prices etc.
What are the Needs
To Feed the flood victims:
More than 20 million people have lost everything they owned and have no way to feed their families.  Lifeline Welfare Organization has many locations where LWO is feeding these families in collaboration with the Social Welfare Department and the Government of Punjab in the flood affected regions.  LWO is distributing meals in the form of Dry Ration packages made out in the quantities, enough to feed a family for two weeks at a time.
Clean Drinking Water:
Flood waters have polluted drinking water reservoirs therefore, the need for fresh water has increased immensely. we need to supply then with clean drinking water and in the long run install hand pumps and small water purification systems for the masses.
Clothing and other household items:
As flood victims have lost everything they are in dire need of clothing and tents for temporary living, other essential household items like utensils, buckets, blankets, sanitary napkins, off the shelf medicines, portable lights etc.
Rebuilding Homes, Mosques, hospitals, schools etc. :
Millions of poor people have lost all their belongings due to the devastating floods.  we have already started working on rebuilding plans and providing shelter to poor people. a low cost home will cost approximately US $1,500/-
for a small family and US $ 2,500/- for a relatively large family.
Why Should I Donate to  Lifeline Welfare Organization
          Rehabilitation work
Lifeline Welfare Organization is a registered NGO and has its accounts audited internally on regular basis and externally once a year, which are published and are public document.
LWF was established, with the fear of God to serve humanity and people living under miserable conditions. Our only goal is to please God by our deeds may God be our witness.
LWF is spending 100 % of the donations received by any means on feeding the flood victims and later on will spend 100 % for the rehabilitation of these unfortunate brothers and sisters.
LWF is buying everything in bulk making it possible utilization of every Rupree or Dollar to the maximum.
LWF management and Board of Directors are easily accessible to all and can be easily reached by phone or e-mail at any given time.
Islamic principles are our guidelines and we act strictly in accordance with the 'Holy Quran'. LWF team clearly understands that working at LWO is an Ibadah (worship) not a job.  We expect our reward from the God al mighty only and we may be held accountable for any wrong actions at our part.
All of our energy is focused on helping the poor and needy. No politics exist or allowed within the organization.
At LWF all works and projects are executed vigilantly with complete honesty to ensure that each and every penny is spent with full utility for the benefit of poor and less privileged people under our care. That is the reason all our donors, partners, associates trust our organization with full faith and conviction.
Lifeline Welfare Foundation is a non-profit charitable organization in Pakistan, currently touches the lives of thousands of people through its programs addressing poverty
including, orphanages, old homes, education, health services, and human rights violations, injustice, education.  LWF vision is to improve the health, and wellbeing of millions of the poorest families primarily in Pakistan.  Currently, LWF has programs in10 different cities of Punjab Pakistan and working on many new projects for the wellbeing of destitute people.
Please note: Your donation is tax-deductible in Pakistan and the U.S.A.